Who We Are
Fujitec is the  5th largest elevator  company in the world recognizing ~$1.5B  in revenue
Fujitec operates in  20  countries with 18 offices in North America
Fujitec employs over 10,000  people worldwide and over  700 in North America
Fujitec has 10 Manufacturing Bases producing elevator controllers and machines, escalators and moving walkways
Fujitec  Global HQ – Big Wing is located in Hikone City, Shiga in Japan (Since  1948)
Fujitec  America HQ  is located in Mason, Ohio (Since  1977)
Fujitec  Canada HQ  is located in Toronto, Canada (Since  1992)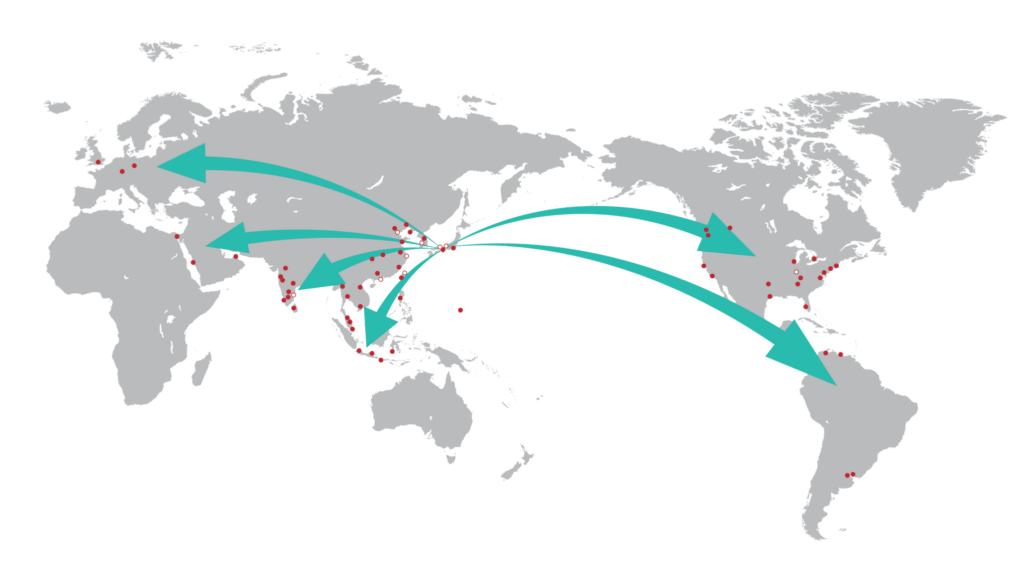 Why Fujitec
We are a global company with over 70 years in business earning over $1.5 Billion in sales world wide. We have the support of a global company, but we operate like an independent business at each of our local offices. For nearly 40 years, our North America headquarters have been in Ohio where we build & manufacture our Fujitec products.
Here at Fujitec, we earn our customers respect because of our Quality & Customer Service.
.
Quality
We have a superior elevator product that consistently outperforms the competition in technology, performance & ride quality.
We don't decrease our product material at the cost of quality & longevity.
Most Fujitec products are assembled or  MADE IN AMERICA!
.
Customer Service
Our service portfolio consists of ~65 units per route mechanic across America, meaning we have more time to do maintenance and less downtime for our clients elevators. (Industry is ~175 units/route mechanic)
Our Account Managers have nearly half the accounts as other companies, meaning more time to focus on customers expectations.
We have dedicated project managers to make projects run efficiently and on time.
Engineering Milestones
1976 – Super high-speed DC gearless elevator with a speed of 600mpm/24.6 MPH (at the time the world´s fastest) was developed.
1978 – Micro-computer elevator control system developed
1982 – World's largest (at the time) elevator production plant built in Lebanon, Ohio
1982 – Developed elevator group supervisory control system with learning function
1988 – Developed world's 1st elevator group supervisory control system using a fuzzy logic computer
1993 – Developed world's 1st elevator muti-informational AV SYstem, AUVIS
1995 – Developed world's 1st elevator group supervisory control system that incorporates AI from a neuro-computer, NUEROS
1995 – Successfully performed the world's first demonstration test of a linear driven elevator
2001 – Developed world's 1st double-deck elevator that can automatically adjust the distance between the upper and lower cabs, FLEX-DD
2003 – Developed world's 1st Plasmacluster air purification system for elevators, IONFUL
2006 – Built a 170-meter tall elevator research tower, at the time the world's tallest and largest of its kind, is completed in Big Wing.
2007 – Developed Seismic functions that further enhance the safety of elevators during an earthquake
2009 – Developed world's 1st laser detector to spot a cord-like object, "DOOR-EDGE SENSOR"
2009 – Developed world's 1st device that enhances escalator safety, "FOOT SAFETY SENSOR"
We Are Fujitec!
Here is a glimpse into what motivates Fujitec as a company. Hard work, dedication, innovation and honesty. Across the globe, we search for talent that can make a change in the world we live in. Safely and comfortably transporting people to their destinations with seamless transitions to any building location. We are proud; We are strong; We are Fujitec!



Fujitec Global

IONFUL - Elevator Air Purification

Create A Sanctuary

We Are Fujitec

Come work for Fujitec!